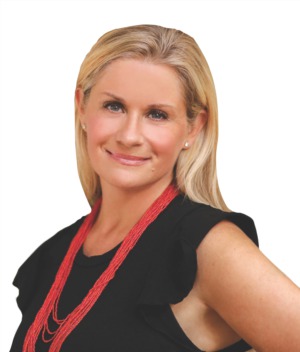 Nicole's ability to connect with people has been the key to her success. To her clients she provides focus, outstanding service, and dedication; with her peers she recognizes the importance of teamwork. After earning a Bachelor of Arts degree from Fairfield University, Nicole spent two decades in Manhattan building a career as Director of Product Development for a multi-billion-dollar fashion house. Upon leaving the fashion world, Nicole has spent the last 7 years parlaying her executive skills into building a real estate business in New York City and now in Connecticut as well.
As a member of two Top Producing Luxury Market teams both in New York and CT, Nicole has learned from the best of the best in the industry. Navigating through the nuances of Manhattan's different purchasing dynamics, Nicole positions and presents her clients for success. With her wealth of knowledge from the fast-paced New York City market, diving into the trial by fire suburban pandemic market has quickly given Nicole the tools to add value to purchasing any type of property in or outside of the city…Most importantly offering her outbound clients the ease of working with one broker who can see the big picture in both markets and position you accordingly. Nicole grew up in Westport, CT and currently has a home in the Greenfield Hill area of Fairfield. Her knowledge of the towns in Fairfield County has enabled the expansion into this new market seamless.
Nicole also has an eye and passion for design and construction. With her husband being in the Construction Industry, Nicole has been able to establish a team of tradesmen to assist her and her clients in many scopes of projects but most commonly transforming estate condition homes in to jewels that have yielded returns which have far superseded the sale price of the property in its original condition. Nicole has managed and executed all these projects in addition to performing her real estate duties, providing her clients with much ease.
Outside of real estate, Nicole is formerly a parishioner at the Church of Saint Ignatius Loyola on the Upper East Side of Manhattan where she served on the Family Ministry and established a support group called Moms, Pops and Tots. She also sat on several committees at St. Ignatius Loyola Preschool where her child attended school. Now a parishioner at St. Pius X Church in Fairfield, a member of the Gaelic American Club and St. Patrick's Gaelic Football and Hurling Club, she also sits on committees and volunteers at her child's current school. She is also an active fundraiser for the Susan G. Komen for the Cure Foundation as well as an annual donor for several other causes. Nicole's personal interests include art, architecture, interior design, fashion, antiques, golf, hiking, horseback riding, horse racing and traveling.
Although Nicole is a Westport native, she spent the last 25 years as a Manhattanite living on the Upper East Side with her husband and child. Fully immersed into their school, church and work community it was not an easy transition when they decided to move to Fairfield during the pandemic. Now 3 years later they have reestablished themselves and are loving life in suburbia. Nicole, a full time realtor in NYC for the last 8 years and now 3 years in CT as well, has a plethora of experience in both markets and can easily help clients transition between the two very different purchasing approaches to Real Estate.