Decorating your home for Halloween while it's listed for sale
Posted by Brian Appel on Friday, October 20, 2023 at 9:00:45 AM
By Brian Appel / October 20, 2023
Comment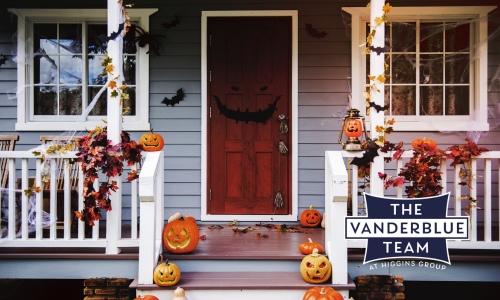 Decorating your home for Halloween while it's listed for sale can be a fun way to embrace the holiday spirit while maintaining the appeal of your property for potential buyers. Here are some tips on how to strike a balance between Halloween decorations and showcasing your home's best features:
1. Keep It Tasteful and Subtle
Choose Halloween decorations that are tasteful and not overly distracting. Avoid excessive or gory decorations, and opt for items that blend well with your home's existing decor.
2. Curb Appeal
Enhance your home's curb appeal with tasteful, seasonal decorations. Consider adding a fall-themed wreath to your front door, a few pumpkins, or a potted mum on the porch.
3. Neutral Color Palette
Stick to a neutral color palette with touches of Halloween. Black, white, gold, or metallic accents can work well. This helps maintain a cohesive look.
4. Lighting
Use soft, warm lighting to create a cozy and inviting atmosphere. String lights or lanterns can provide a festive touch without overwhelming the space.
5. Minimalist Approach
Less is more when your home is listed for sale. Keep decorations minimal to avoid clutter and allow potential buyers to focus on the property's features.
6. Non-Scary Themes
Choose Halloween themes that are family-friendly and non-scary. Avoid anything that might make potential buyers uncomfortable.
7. Table Settings
Set a Halloween-themed table in the dining room or kitchen with elegant place settings, seasonal tablecloths, and centerpieces. This can add a festive touch without being too distracting.
8. Open House Decor
If you're hosting open houses during the Halloween season, consider offering refreshments like apple cider, pumpkin spiced treats, or candy. This can create a welcoming atmosphere.
9. Scented Candles
Use scented candles with seasonal scents like cinnamon, apple, or pumpkin spice to create an inviting aroma.
10. Virtual Tours
If you offer virtual tours, add Halloween-themed graphics or animations to your presentation. Keep them subtle and tasteful.
11. Photography
When taking photos for your listing, make sure Halloween decorations are not the focal point. Your images should highlight the property's best features, with the decorations complementing the overall ambiance.
12. Promote the Lifestyle
Use your Halloween decor to promote the lifestyle of living in the home, rather than overwhelming the space with decorations. For example, you could set up a cozy reading nook with a Halloween-themed book display.
13. Highlight Seasonal Features
Emphasize any features of the home that are particularly appealing in the fall season, such as a cozy fireplace or outdoor entertaining space.


Remember that the primary focus is on showcasing your home to potential buyers. The Halloween decorations should enhance the atmosphere and make the property feel inviting, not distract or detract from the main selling points of the house. A tasteful and thoughtfully integrated approach to decorating for Halloween can help create a welcoming and memorable experience for potential buyers without overwhelming them. Have fun and Happy Halloween!