Halloween Safety: Trick-or-Treat Tips
Posted by Chris Sinatra on Friday, October 27, 2023 at 3:59:42 PM
By Chris Sinatra / October 27, 2023
Comment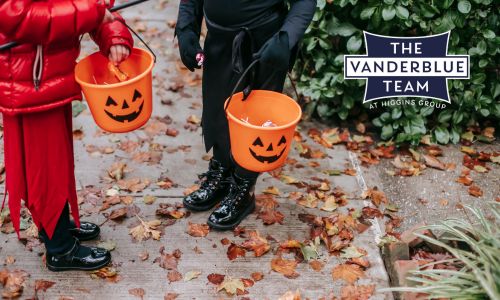 Halloween doesn't have to be scary for parents. Halloween is one of the most exciting nights of the year-especially for kids! But in the excitement, it's easy to lose sight of practical safety measures every parent/ guardian should take.
Watch where you walk
Make sure to stay on sidewalks and in low-traffic areas. If your neighborhood doesn't offer this type of situation, consider tock-or-treating in a neighborhood near by that does.
Don't let them go it alone
It's best to accompany children under 12 while trick-or-treating, even if it means you have to stay on the curb and give the "older" ones some space.
Practice proper costume safety
Avoid anything completely black or a very dark color or hooded and/ or consider putting reflective or glow-in-the-dark markings on thier bags and the costumes themselves. You can also incorporate glow sticks into the costume, or hold them for extra visibility.
Dress comfortably
Comfortable shoes and trip-proof costumes are a must. And dress appropriate for the weather. A luau or surfer costume probably isn't best in near-freezing temps.
Avoid harmful paints and materials
Face paint is a better option than a mask, which can impede your child's vision, but if the paint is loaded with harmful chemicals, it's best to buy a product specifically designed for children. And every costume must be fire retardant, safety first!
Drive carefully
Peak trick-or-treating hours are from 5:30 p.m. to 8:30 p.m. which mean twilight to total darkness. Drive slowly through residential areas and be extremely cautious as excited children can dart out between cars, through bushes, around bends in the road or just about anywhere.
Candy check
This tip is a no-brainer, but be sure to check your child's candy before he or she eats it and discard anything without a wrapper or that may have been tampered with. This includes the never-popular "no eating while treating" rule.
Stranger danger rules still apply
Even if you're only trick-or-treating through your neighborhood, explain to your child that the same stranger rules still apply and to never step inside a person's home, even if invited. This isn't Mayberry anymore!
Lastly, be polite
Halloween is a great opportunity for you to reinforce good manners in your children. Remind them to always say please and thank you to every candy-giving neighbor... even to old Mrs. Williams who gives out those old bags of pretzels!
Brought to you by your Ghoulishly Friendly Realtor, Chris Sinatra.
Don't be scared to move. This Halloween, let me help you find your dream home. It'll be my treat!