Below is an market update about Loans in Fairfield County, courtesy of David Garofalo, Branch Manager at Total Mortgage in Trumbull, Connecticut.
Conversion of Principal Residence No Longer Applies - Rental Income
We no longer need 30% equity nor do we need proof of the security deposit just a LEASE. For those who don't remember, borrowers that wanted to move to a new home where unable to qualify due to not having 30% equity in the home they where leaving. This no longer applies. In addition, we also needed additional reserves based on the equity in the current principal residence when the borrowers were converting their principal residence to a second home or investment property. Either 2 month or 6 months depending on if there was 30% equity or not is NO LONGER NEEDED!!!!!!
Unreimbursed Employee Business Expenses
We have all had borrowers in the past who we thought would qualify, get denied due to "unreimbursed business expenses". For example, they are a W2 employee but wrote off too much on their taxes returns, such at travel, uniforms, supplies, education, etc. UPDATE For a borrower who is qualified using base pay, bonus, overtime, or commission income unreimbursed employee business expenses are no longer required to be analyzed or deducted from the borrowers qualifying income, or added to monthly liabilities. This applies regardless of whether unreimbursed employee business expenses are identified on tax returns, IRS form 2106, or tax transcripts received from the IRS.
Union Dues and other Voluntary deductions - No longer need to be deducted from the borrowers income or treated as a liability.
EXCEPTION to this is if the expense is an actual automobile lease or loan payment. If the borrowers report an automobile allowance as part of their monthly qualifying income, then we must determine if the automobile expense reported on IRS Form 2106 should be deducted from income or treated as a liability.
JUMBO LOANS
We are now offering 15% down with one loan and NO PMI for loans up to $2mm. Rates are very comparable to other programs with 20% or more down payment and as of early September, these rates range from 2.875% for a 5yr. ARM to 3.875 for a 30yr. Fixed. These rates can and do change daily.
***Please note that the above update is for conventional loans under $601,000 in Fairfield County and under $417,000 for the of CT. Also, many lenders have not adopted the below updates.***
---
About Daivd Garofalo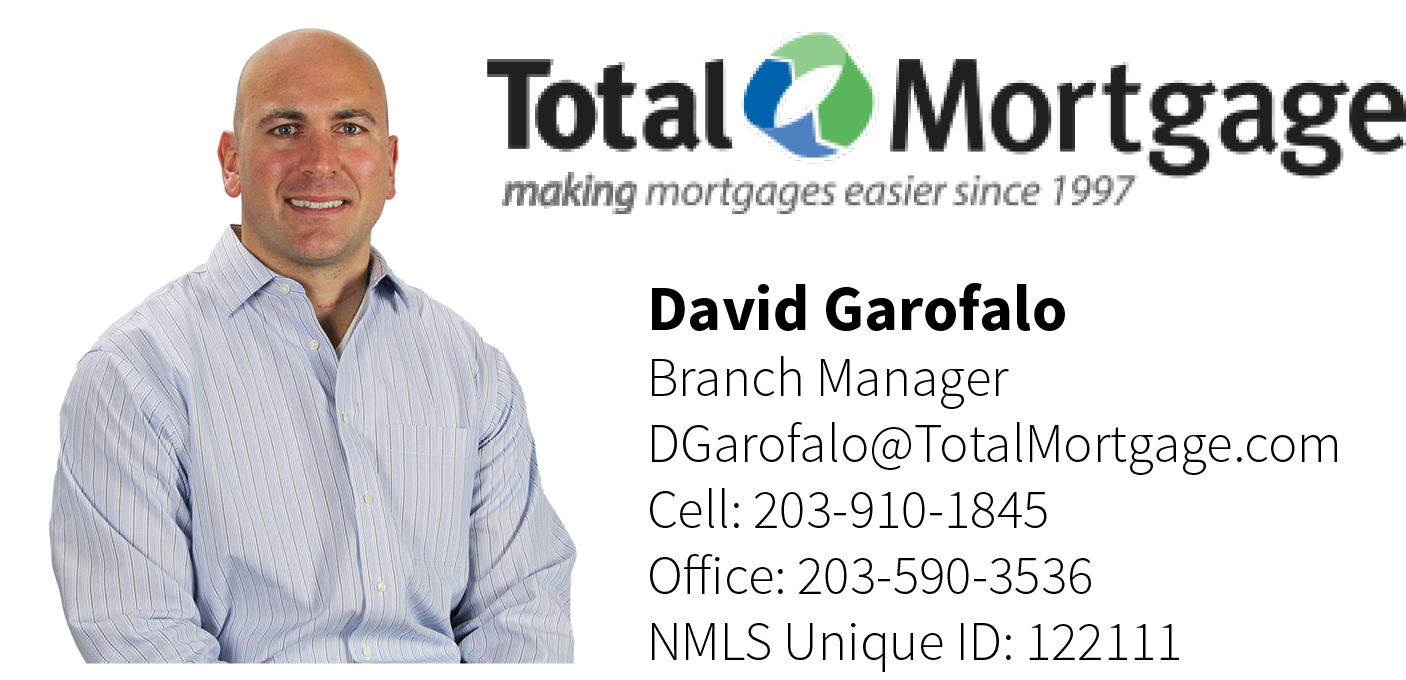 David is the Branch Manager for Total Mortgage in Trumbull, CT. He has been a loan originator for over 12 years has been consistently ranked as a top producer in Connecticut, specializing in all Fannie Mae/Freddie Mac loan products as well as FHA/VA, CHFA, and Renovation lending.
He has helped empower consumers by providing them with a higher level of communication, and has significantly raised the bar of performance, so that great service is the standard, not the exception.
Prior to joining Total Mortgage, David was the number one producer for one of the top purchase lenders in the state of Connecticut. Prior to that, he was consistently a "Diamond" level producer, which is the highest award from one of the largest lenders in the country.
Contact David Garofalo at DGarofalo@TotalMortgage.com, or call his office at 203-590-3536 to learn more.