Nothing stirs-up the juices like a great burger and in Fairfield County, we're so fortunate to have many. Whether you're visiting, looking for houses, new to the area or a seasoned CT veteran, you need to know where to get the best burgers. We're going to start the list with my personal favorite… The Whelk in Westport, CT.
1. The Whelk is known primarily as a Seafood restaurant but the best thing on the Menu is the Dry Aged Beef Burger which comes with pickles, bacon, onion mayo, cheddar on brioche with fries. This comes from the mastermind of Bill Taibe, Westport's own celebrity chef. This burger was originally featured at Bill's famed Westport restaurant, LeFarm which sadly closed their doors in 2015. Immediately Bill brought this fantastic burger over to the Whelk where it lived-on and was originally called the LeFarm Burger. At $20, it may be a little costly, but I assure you, it's worth every penny.
Photo credit – Patch.com
2. Elm in New Canaan has a Burger that's the creation of Luke Venner, Elm's executive chef and partner "It's an homage to two different burgers I've come across in my life that I really like," Venner says. "In-N-Out's Double-Double Animal Style and the veggie burger from Hillstone." It's called the Wagyu burger, double-double, 'animal style' which every good burger lover knows consists of 2 patties, 2 slices of cheese, grilled onions and it's also got the shredded lettuce and bun just like Hillstone/Houstons. Unlike In-N-Out, this fancy burger will set you back $25 and again… it's worth it.
Photo credit – CTBites.com
3. Match in South Norwalk & Match Burger Lobster in Westport, CT. Match restaurant in Downtown SONO is one of the longest running restaurants on Washington Street, where if you're not great… you don't last and one of the best things on Match's menu is the Match Burger. It's so good, that Westport native Chef and Owner Matt Storch took his ever so popular burger back to his home town and made a spin-off, Match Burger Lobster that features just that. A few years ago he won Food Network's Chopped with his infamous burger. The Match Burger contains the finest char-grilled ground beef, caramelized onion-sesame brioche, bacon-cheddar 'dip', bacon, sweet & sour onions, fries & NYC pickles. Pro tip, it's $19.66 at Match and $17 at Match Burger Lobster.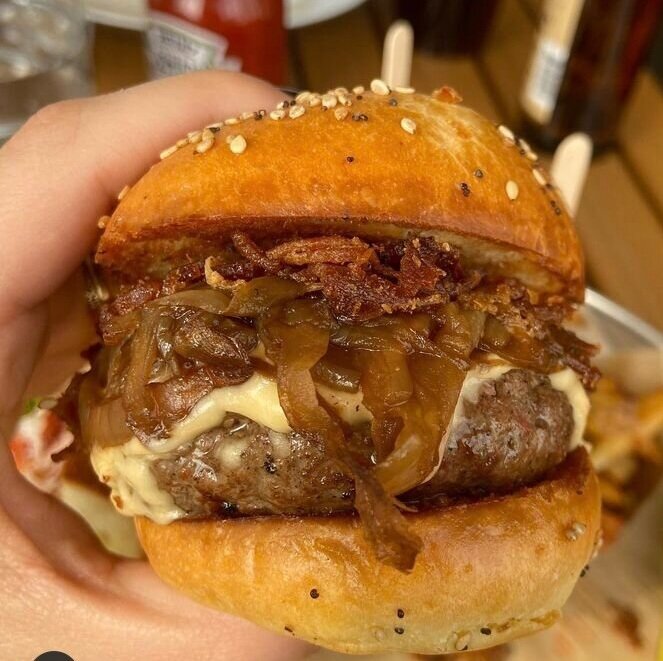 Photo credit – Donutsatthedisco.com
4. South End Uncorked in New Canaan is the tavern of the South End trio of outposts. Chef Nick Martschenko's original South End is the white tablecloth experience, South End Uncorked is the bar atmosphere and most recently to the scene is South End Back End which features Mexican inspired street food. All great in their own respects, the best thing on all of the menus is the Uncorked Double Double Cheeseburger which has SE burger sauce, house-made ketchup, zucchini pickles & comes with hand-cut fries. It's so cheesy and juicy, you'll be hard pressed to find a better burger experience. Priced right along with the other fancy burgers at $19.
Photo Credit - jfoodeats.com
5. Burger, Shakes and Fries (BSF) in Greenwich and Darien is Connecticut's version of a fast casual burger. It's reminiscent of a classic 50's diner/ greasy spoon. It's a smaller 1/3 lb patty but the meat is fresh and prepared on the flat-top so you get a nice crust. This one is really for the people as a basic burger could be had for as little as $5.95 but the way I go, with a Double Cheese on a Potato bun with special sauce and a fried egg, you can get up into the teens.
Photo Credit – CTBites.com
Bonus – No Connecticut burger review is complete without mentioning the one who started it all. Louis' Lunch in New Haven. Sandwiched between some of the greatest Pizza places not only in the State, but on earth, you'll find a little house on Wooster Street that is said to be the birthplace of the Hamburger Sandwich. Using the same unique vertical broiler since 1899, the lean mix of beef is flavorful and juicy. They really want to showcase the meat here so rather than serve on a bun, it's on two slices of Pepperidge Farm white bread. No condiments permitted and they don't even have fries, just chips. This may not be the best burger but it is the original and it's incredible to see and experience first-hand where the incredible burger world evolved from. Price - $7.
Photo Credit – Thrillest.com