It was April 2017, we had just built our new home 6 months ago and our youngest was only a month and a half. We were faced with the question that threw our lives for a loop! Would we move to NYC? We could not pass up this incredible opportunity! NYC here we come!

My husband was working in New York City and commuting back to Massachusetts on the weekends. My entire life I had lived in suburban Massachusetts, so our family was jumping in with both feet to the Big Apple. Our extended family was very supportive and ready to help in any way that they could. My parents drove our family and even our chocolate lab from MA to NYC! I can remember the drive feeling like an eternity, wondering what we were getting into. I was a flurry of emotions: I was excited to see my husband and finally be living under one roof again; I was nervous because 1 was moving into our apartment that I had not seen; and I didn't know what it would be like to say good-bye to my parents, who I would normally see on a weekly basis.
Pulling up to our building was very intimidating with a door man and people rushing by. I was hesitant to get out of the car. This was foreign to me and was different than I anticipated. Our building was on the Upper West Side (UWS) and directly across the street from a park, which made me feel like it was the right location for our young family. The door man, Bruce, whom we became very close with, greeted us at our car door and made us feel at home! Unloading our possessions onto a luggage cart to move in was very different for me, it was like we were at a hotel! Needless to say we got very used to using luggage carts!

My husband led us from the lobby all the way up to the 18th floor and down a long hallway to our apartment! I opened the door to a sea of brown, stacked to the ceiling were all of our belongings awaiting to be unpacked!

We decided to explore our new city and ventured out to explore Central Park with my parents! The day came to an end and we had to say our "see you later" to my parents. It was difficult, but FaceTime and receiving packages from Mimi and Papa became the norm to keep us connected!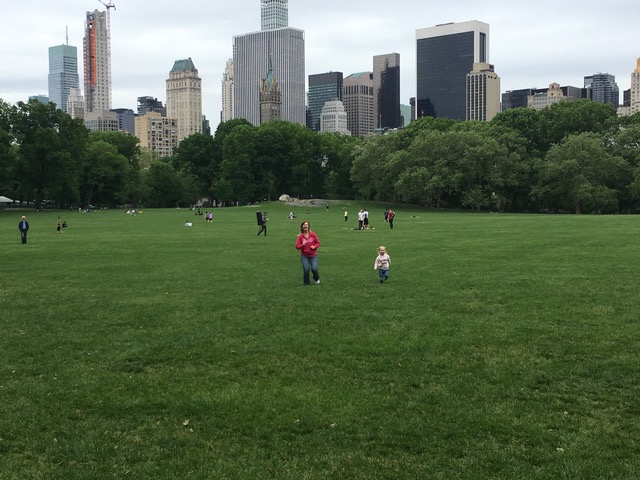 My husband headed to work and I experienced my first day at our new home with both girls and our sea of brown boxes. I learned to be creative with the space we had for all our family's possessions. Pinterest was my resource when it came to living in a small apartment and how to organize things! It wasn't long until the girls and I got into a routine. I quickly learned to love to walk, learning my way around this big city! I would put my youngest in the front carrier, my oldest in the stroller and walk the dog, multiple times a day, through all seasons! I found new parks, restaurants, coffee shops etc. Joining Facebook groups for UWS moms, NYC moms and any other interesting groups for our family was very helpful. Other challenges I faced were having a husband who traveled 60-70% and having a dog with anxiety.
Needless to say our move to NYC had challenges, but ones that we overcame. Stay tuned to learn more about our journey and how we eventually made it to CT!